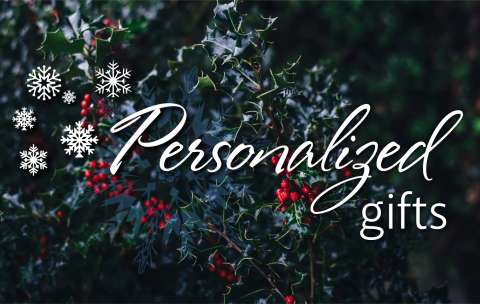 It's beginning to look a lot like the holidays, and this means that the next few months will be packed full of planning, shopping and wrapping. Gift shopping can be one of the most enjoyable parts of the holidays, as it's lovely to plan out presents and anticipate the happy responses on the big day.
It can be stressful to sort out present shopping, though, especially if it's for your friends and family. How can you be sure that you're giving your loved ones something memorable? What if they've already received the same present from someone? Questions like these can often take the fun out of the whole gifting experience.
This is why we think it's so great to get personalized gifts for your loved ones during the holidays- and that's exactly what we'll be looking at in this blog post today. Here at Awards4U, we want to help our customers find the perfect, bespoke gift this holiday season, and we're sure that you'll be able to find something perfect for your loved ones from our website.
Why you should consider giving personalized gifts this year
Whether you're an avid shopper, a holiday fanatic or someone who avoids the holiday rush until the very last second, you're going to want to look into personalization this year. Receiving a gift that's been tailored just for you is a feeling like no other, as it showcases how much the other person cares and how much thought they put into the gift.
There are a number of key reasons why you should consider looking into buying personalized gifts this year, and our top picks include;
● They're so much more memorable to receive. This is the most popular reason for opting to get someone a personalized gift, but it is worth noting regardless.
If you simply bought someone a set of wine glasses, chances are that they'd be forgotten by the summer and mixed in with the other glasses in the household.
Purchasing them engraved wine glasses with a cute message or special date would ensure that they were memorable and cherished for much longer. This little act could make your present mean the world to someone.
● You can be certain that they won't have it already. Double-gifting is always a concern with gift giving, but with gift personalization it doesn't need to be. If you spend the extra time and thought on putting together a bespoke, memorable gift then you can be certain that no one has already gifted your loved one the same thing.
This can also be handy for making sure that your loved ones don't get too many of the same thing each holiday season, too. Does your father always get socks from people? Has your aunt always been gifted the same bath and beauty kit each year? Try spicing it up with a personalized gift- they'll thank you for it.
● It can be enjoyable to put personalized gifts together. One thing that many people don't consider when it comes to the holiday season is how they're going to be when gift shopping. Just walking around your local mall and dealing with the holiday crowds can be utterly exhausting.
This is why working with a company like Awards4U can be so helpful. All you need to do when personalizing a gift is to select a product that your loved one will enjoy, personalize it and purchase! It can take so much time and stress out of the equation, leaving you to focus on the things that truly matter in the holiday season.
It can also be quite fun to put together a personal, bespoke gift too. If you're producing a photo-based gift, it gives you the chance to go through old memories and reminisce. If you're engraving a product, it gives you the chance to be creative and come up with a funny or heartfelt message.
● Personalized gifts can be tailored for all sorts of people. If you've got a family member or friend that's notoriously difficult to buy for, this could be a great move for you. If you have a family member who never wants anything special for the holidays, try getting them something that's personalized. Something simple like a bespoke wallet or coffee cup could truly brighten someone's day.
● It shows people that you pay attention to the small details. This is a particularly good point if you're buying for a partner or loved one. Engraved or printed products give you the opportunity to bring up some beautiful memories for the recipient.
If it's for your partner, why not buy them engraved wine glasses and a bottle of their favorite rosé this year? Personalization gives you the opportunity to make your gift something truly special.
To sum up
As you can see, adding a touch of personalization is a small detail that really goes a long way. If you want to make sure that your gifts are remembered, cherished and enjoyed, then we would recommend looking into personalization this holiday season.
No matter if you're shopping for your partner, your colleague, a friend or a family member, you're sure to find a gift that will put a smile on their face. Personalized gifts can also be perfect for gift exchanges or secret Santa games! The possibilities are only limited by your imagination and the company that you choose to work with to make your gift dreams a reality.
Awards4U is passionate about providing the best selection of personalized gifts, awards and trophies for our audience. Whether you're looking for a personalized tumbler or wall plaque, or a bespoke wallet or a wine box, we'd be glad to help you out today.
If you want to find out more about the products that we offer, make sure to have a look at our product catalog. Additionally, if you've got any questions or queries then our team would be more than happy to oblige. You can call a member of our team from either Tallahassee location at 850-878-7187 or 850-668-5007, or contact us through our website.