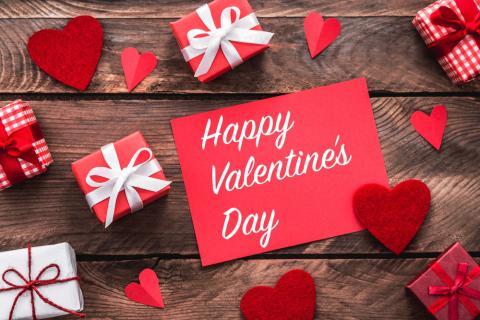 We've all seen it –  the rows of bright red gifts filling the isles of your local drugstores signaling the approaching Valentine's Day holiday.
Instead of snatching an "I Love You" Teddy bear and a heart-shaped box of chocolates off the shelves, consider giving your sweetheart something with a personal touch this year.
At Awards4U, we have dozens of customizable gift options that allow you to add unique messages and images. Here are six great Valentine's Day gift ideas to consider.
1. Rosewood Wine Box
Our Rosewood Wine Box is a thoughtful gift at the end of a romantic evening in with your Valentine. Gift them this set with their favorite bottle of wine alongside a home-cooked dinner for two!
2. Silver Metal Picture Frame
Reminisce about your life together by framing one of your favorite moments in this 5-by-7-inch silver metal picture frame. The classic and elegant gallery-style frame will fit perfectly into any room of your home.
3. Heart-Shaped Crystal Ornament
Share a heartfelt message on one of our heart-shaped crystal ornaments. Whether it becomes your favorite Christmas tree decoration or hangs above your fireplace year round, it's a great way to commemorate your love.
4. Iceberg Sculpture Tall Vase
Show your appreciation by bringing home her favorite flowers in this beautiful crystal vase, engraved with a personalized message. Not only is it a tasteful twist to a Valentine's Day classic, but it will add a touch of charm and luxury to your home.
5. Silvertone Keychain
Sometimes the little things can mean the most. Give your significant other a small reminder of your feelings with one of our customizable key rings they will carry with them every day.
6. Golf Set
Perfect to use during their lunch break at work or a lazy day around the house, your golf-loving significant other will enjoy every second with their unique golf set, complete with engraved box.
No matter the latest trends, personalization never goes out of style! Give your sweetheart a personalized gift they can cherish forever this Valentine's Day. Call Awards4U at 850-878-7187 or visit one of our Tallahassee locations for more personalized gift ideas.