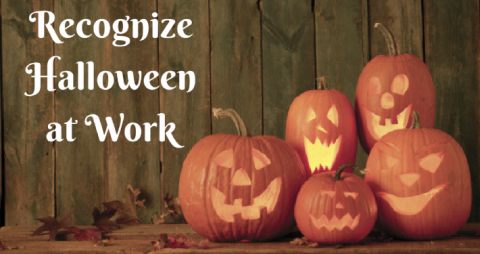 Halloween falls on a Monday this year, which can make for a great start to the week and give employees something to look forward to as their weekend comes to a close. Incorporating Halloween festivities in your office can help improve teamwork and spur creativity, without being expensive or time consuming.
Although we may have outgrown trick-or-treating, there is no reason anyone should miss out on any of the fun!
1. Host a Halloween themed potluck, breakfast or lunch, and let your employees show off their best dishes. Here are some spook-tacular recipes that are sure to be a hit: Halloween Recipes
2. Encourage everyone to decorate their office space and show their creative side. You can encourage some friendly competition by giving a fall-themed prize to the person with the most unique space. Or, you can host a themed event like a pumpkin painting party before Halloween as a team-building opportunity.
3. Find an organization in need in your community and encourage your office to volunteer. You can show up in costumes and brighten someone's day.
4. Halloween kicks of the busy holiday season. Before travel schedules start, you can recognize everyone's hard work throughout the year by setting up some fun Halloween themed games and activities. Bobbing for apples anyone?