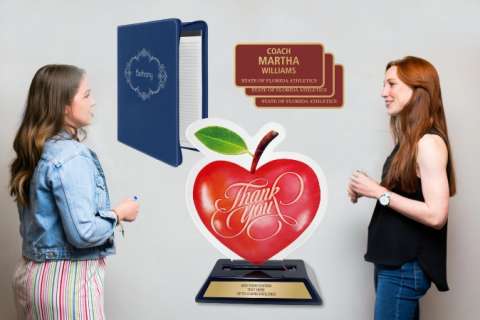 After over a year of distanced learning, students and teachers in Tallahassee, Florida, are headed back to school. Throughout this time, both students and teachers have had to juggle the challenges of the pandemic with their education. So, how can we show our appreciation after such a challenging year?
Show them that you recognize their effort and appreciate everything they do with these four must-have gifts for students and teachers returning to school this year.

This year, there'll be a lot of new faces. New teachers, faculty, and students will finally be getting a chance to see each other face to face. Name tags are great personalized gifts that can make your student's teacher feel appreciated and help with students remembering their names.
If students need to wear their name tags at school, you can customize the color and logo to match their theme. Choose from durable plastic or metal tags, and your preferred way to attach them.
This past year has been especially hard for teachers. If you're looking for a way to show your appreciation, the Acrylic Apple Award is the perfect way to say thank you. You can add your teacher's name, grade, date, or anything you think will make it feel more special.
With teachers headed back to their old classrooms, having something on their desk that reminds them there are parents and students who see their efforts and appreciate them can help lift their spirits. It's a fun and memorable way to show teachers your support.
The Walnut Desk Nameplate is a great personalized gift for teachers, no matter what grade or subject they teach. It can add style to any desk and help students learn their teacher's name year after year.
The two-tone double brass nameplate and rich walnut wood are elegant, look good on any desk, and can become long-time mementos that teachers hold on to for years. With a fully customizable nameplate, you can add your teacher's name, subject, grade, and school logo to show some school spirit.
The Personalized Zipper Portfolio comes with notepad paper and a customizable blue leatherette portfolio to keep all your notes and important papers together. It's also great for storing pens and pencils, calculators, and any other small supplies you might need.
This is a back-to-school gift that students or teachers can use every day. You can also use this as a gift for recent graduates who are on their way to working in a professional environment. It shows your appreciation and that you thought hard about your recipient.


Find your personalized gift at Awards4U
Show students and teachers going back to school in Tallahassee, Florida, your appreciation with a personalized gift from Awards4U. All of our awards are assembled in the USA and come with a 100% happiness guarantee.
Shop from thousands of customizable awards and personalized gifts to find the perfect way to show anyone your appreciation.