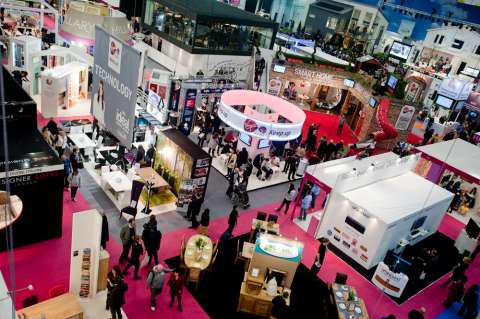 As summer approaches, many business owners and organization leaders find their schedules filling up with annual conferences, conventions, trade shows and expos.
Whether through networking or tabling, attending conferences is a great way for companies to gain more business. However, if you're not prepared, these annual events can turn into wasted weekends.
Following these helpful tips will help ensure your business has a successful summer conference season.
Order Unique Promotional Items
From pens to coffee mugs, promotional items have long been used as a tool for business owners and managers to raise awareness about their products and services. When exhibiting at conferences, expos and trade shows, it's especially important for businesses to choose promotional items that won't get lost in a sea of other giveaways.

The key to ordering effective promotional items is understanding your customers. Knowing who is in your target audience and the lifestyles they lead can be helpful in determining the type of products that will make a lasting impression. Be creative when choosing promotional items to represent your business while keeping in mind usefulness, relevance to your business and longevity.
Pack your Nametag and Plenty of Business Cards
One item that should be on the top of your checklist when packing for a summer conference is your nametag.
Though nametags aren't always high on the priority list, business leaders and representatives should be careful not to underestimate the effectiveness of wearing your nametag throughout the duration of a convention or conference. If you won't be participating in any vending or exhibiting, it's unlikely that you will have a place to display signage that showcases your company's branding. Wearing your nametag will provide an opportunity for other attendees to see your business or organization's logo.

While there are typically disposable nametags or badges available to attendees, wearing your own branded nametag is just another small way you can market your company or organization before even opening your mouth.
Ensure Your Company's Online Presence is Up to Date
Whether you're attending a conference strictly to network or working a booth in an exhibit hall, the end goal is to garner more business or participation in your organization. In today's digital age, after people receive your business cards and promotional items at a conference, it is natural for them to search for your company online.
So, in preparation for a large annual meeting or conference, be sure that your business is being accurately depicted online. In addition to ensuring the listed services and contact information on your website is current, you should encourage employees who will attend the conference to update their biographies for the company website and on any professional social networking profiles.
Business hours, services and contact information also should be updated on the company's Google and social media profiles.
Bring Plenty of Business Cards
Although this may seem like a given, remember to bring plenty of business cards with you to any conferences you'll be attending this summer. Business cards are another item that people often forget to pack or don't pack enough of when preparing for a conference. Most conferences span at least two to three days, and it's likely you'll pass out more business cards than you anticipate, so don't be left to rely on the spare cards at the bottom of your briefcase or purse. Be on the safe side and bring a large stack of business cards or even the whole box.
If you're planning to attend a summer conference, now's the time to order your custom booth signage and promotional items. View our selection online or give us a call today at (850) 878-7187 to speak with one of the experts at Awards4U.