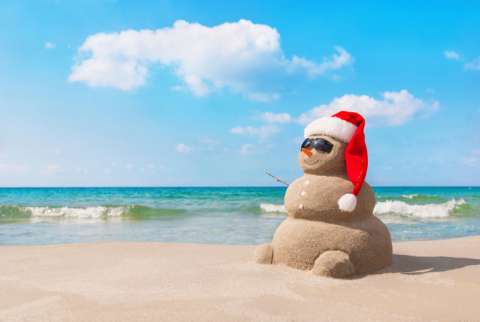 Relax. The holidays are here, and although it's a season known for hustle and bustle, there's no harm in taking a break — especially when Christmas is only a few days away. Here are 4 ways to *actually* relax during the holidays.
Go to the Beach: Going to the beach year round is just one of the many perks of being a Floridian. Enjoy the sun and sand, and — since we don't have the snow for snowmen and snow angels — try your hand at making sandmen and sand angels!

Really Enjoy Time with Friends and Family: Don't worry if your holiday decor isn't perfect, and resist the urge to check your email. We know it's hard to put down smartphones, but you can do it. Be present.

Listen to Christmas Music: Christmas music isn't just limited to the classics, although who doesn't love hearing Jingle Bells? Christmas music spans all genres, so there really is something out there for everyone. Bing Crosby's classic "White Christmas" is one of our holiday favorites.

Relax in Whatever Way You Know How: Whether it's curling up with a good book, binge watching TV series or just doing nothing at all — we hope you'll remember to destress during one of the most wonderful and stressful times of the year!
Happy Holidays from Awards4U!