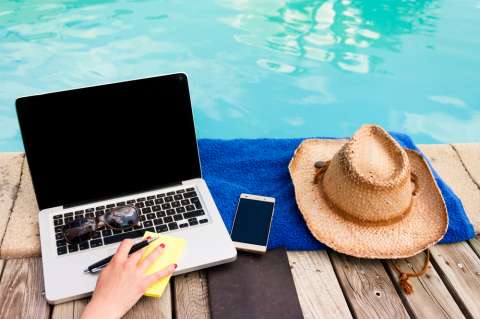 Recognizing and rewarding employees' dedication and contributions is essential year-round, but it can be especially necessary during the summer.
People often imagine their summer months filled with tropical vacations and trips to the beach, but the reality for many is that most days will be spent working. So, it's important for business owners to find ways to keep employees motivated and engaged during this time.
Organizing fun team events and instituting special summer policies can help boost morale within the workplace during these months. If you're looking for more ways to keep your employees happy this summer, here are four easy ideas to try.
Relax the Dress Code
A minor, yet impactful, change that employers can make to boost employee morale is instating a more relaxed dress code during the summers when appropriate. If you haven't already established a casual Friday or dress-down day, the summer is the perfect time to start.
According to the Society for Human Resources Management, more companies are shifting toward a less formal dress code in an effort to establish a company culture that is attractive to millennials and members of Generation Z who currently make up 40 percent of the workforce.
Flexible Schedules
If the summer isn't an especially busy time for your business, then there's no harm in embracing a more flexible schedule for employees. In fact, it may even improve productivity and increase employee retention. An experiment by scholars at Stanford University showed that people working full time from home are 13 percent more efficient. Additionally, a 2016 survey of Americans who work remotely found that about 91 percent of them feel more productive working from home than when they work in the office.
Offering the option to work later during the week so employees can leave early on Fridays or giving them a few remote, work-from-home days each month is a great way to boost morale and show that you care about work-life balance.
Summer Competitions
Organizing small competitions and game days is another way to keep the mood light and fun during the summer. Not only do these little competitions and games make for a fun work environment, but they're also a great way to bond and connect with your employees outside of the workplace. Whether you plan to make these activities incentive-oriented— (e.g., the winning team gets to leave work early one day— or use them strictly as stress relief for employees, they serve as great team-building exercises.
Summer Parties and Outings
Here at Awards4U, our president cooks lunch for the team every summer to recognize their hard work and show his appreciation for their contributions. Whether you're kicking off the summer or celebrating a great season, consider throwing a company party or potluck lunch, hosting a barbecue or even scheduling a fun group outing to recognize your employees for all of their hard work.
At Awards4U, we know how valuable your employees are, and we want to help you recognize them. Check out our employee recognition products online or call (850) 659-0860 to learn about all of the recognition items Awards4U has to offer.