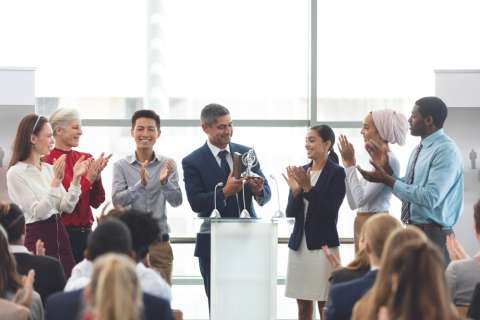 Whether it's an award for growth, performance or community involvement, being recognized for excellence can help a business establish credibility and gain publicity.
Winning an award can help elevate the status of a business in many ways, but only if you're strategic when announcing and promoting the news. To ensure you're adequately leveraging an award win to gain more exposure for your business, follow these proven strategies.
Let Others Recognize You
Following an award win, some of the best promotion you'll receive will come from your network of friends, family and past customers. After you've announced the news, people will share their congratulations and many will provide positive feedback about their experience working with your business. You can then use those comments to create testimonial graphics to share at a later time on social media, which will encourage your followers to continue to give your business positive reviews.
Include Customers in the Process
A business can't succeed without loyal customers and clients, so it's important to acknowledge their role in helping your business receive new accolades. After taking home an award, you can then announce your victory with an email, on social media or through your website, by thanking customers for their continued support. If the selection process for an award included a nomination or voting component, thank your friends and followers on social media for participating.
In your message, consider rewarding loyal customers with a discount code or special offer that ties back to the new award, which will help channel the momentum from your win to increase sales.
Congratulate Other Winners
When appropriate, a great source for new business after winning a big award are the other business owners who were recognized with an award. Whether privately through a personal email or letter, or publicly on social media, be sure to congratulate the other business owners who were honored. While this is a seemingly small gesture, it can go a long way in relationship building. The other business owners may follow suit and congratulate you publicly also, exposing members of their audience who may be unfamiliar with your business to your brand.
Add Award Badges on Marketing Materials
Often, organizations that facilitate major awards will provide honorees with a promotional kit that includes an award badge or logo. Business owners should place the badge on all promotional materials throughout the year. Tout your business' success by using the badge on your print ads, emails and even on your company's website. When an award program is well-respected in the community, having the program's badge on your marketing materials will enhance the public's trust in your business.
Winning an award can help a business gain positive attention long after the awards ceremony is over. At Awards4U, we understand the power of recognition and what it can do for your business. If you're interested in purchasing promotional items showcasing an award badge, check out our selection online or call (850) 878-7187 to speak with one of our knowledgeable team members about all of the recognition and promotional items we have to offer.