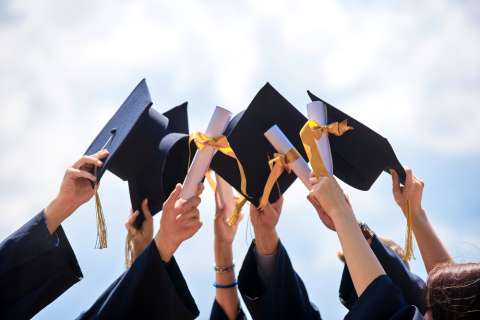 You heard it here first — it's officially graduation season.
As the end of spring slowly approaches, young adults everywhere are anxiously waiting to take their next big step in life. With six public high schools, a community college and two major universities, Tallahassee is no exception. Florida State University alone graduates an average of 11,000 students annually.
Let your graduates know how proud you are of their accomplishments. Whether they're graduating from high school or progressing from the university level to set foot into adult life, above all else you want to make sure they'll have a gift they remember once the excitement and confetti has settled.
For inspiration on choosing the perfect gift, try these five ideas.
1. Give them a daily reminder of your support with a charming desk accessory. Small decorations can be just what your graduate needs to bring a bit of personality and fun to their new space. A name plate, engraved pen, colorful paperweight, small clock or even a comical trinket that has memories of home will brighten their day-to-day life.
2. Commemorate their achievement with a custom diploma frame. A diploma is a symbol of a graduate's hard work and dedication. With that, having it on display acts as a reminder of the persistence that brought them to where they are now. Give your loved one a frame that reflects their taste and consider adding an engraved message with your congratulations to ensure that their diploma is a cherished part of their home or office.
3. Provide them with travel gear to remind them of the places they can go. Graduation often presents graduates with opportunities for travel, whether for work or pleasure. New luggage, a travel journal or a passport case will remind them of you even when they travel far from home. These kinds of gifts can be personalized by adding fun stickers, pins, patches and luggage tags!
4. Commemorate their high school or college years with a memory gift basket. Kindle fond memories of graduates' time at school with a stuffed animal of their school mascot, a key chain engraved with their graduation year, candles that hold familiar scents of their college town and clothing that reads 'alumni' to keep their alma mater close to their hearts.
Awards4U can help you celebrate the important moments in life. See our graduation recognition items online, or call us for assistance at (850) 878-7187.