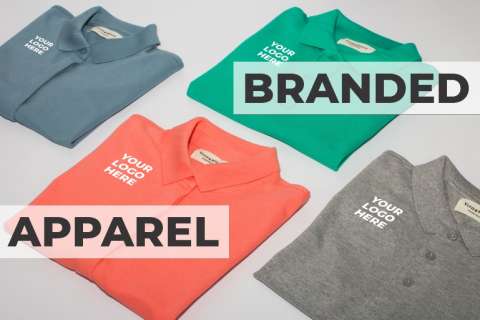 Corporate apparel is a fun and exciting way to boost visibility, build brand loyalty, and give recognition to people on your team. But how do you choose the right corporate apparel for your brand? Here's everything you need to know about creating the perfect corporate fit.
Choose your style
Before deciding on the design of your brand apparel, you need to decide what articles of clothing go best with your brand's style. Ideally, it'll be something that employees can wear in and around the workplace.
Polos are great options for brands that want to give the impression of professionalism, while t-shirts are perfect for more casual or forward-thinking companies. Remember, choosing corporate apparel that matches your brand is just as important as the design of your clothing.
After you have the right style in mind, you can fully customize your clothing's color and design to match your brand. Choose the logo placement, size, and take complete control over the color of your apparel.
Screen printing process
Screen printing has been around for hundreds of years, and it remains a popular choice for custom-designed products today. The screen printing process allows for better design placement, rich colors, and a durable product that people can wear repeatedly.

1. Transfer the design to a stencil
Once you've finalized your design, it is transferred to a polyester stencil using emulsions and light exposure. At the end of the process, you're left with a stencil that can be used to print your order of clothing.
2. Apply paint through the stencil
Colors are applied one at a time, being pushed through with a mechanical press or by hand. This ensures colors aren't mixed and that each layer of paint can adequately bond with the fabric.
3. Apparel is allowed to dry
After all the layers are applied, the custom apparel is sent through a heat conveyer to dry. The step provides a strong bond to the fabric and ensures it'll last through rigorous or frequent washing.
Digitizing process for embroidery
Embroidery is a great option for corporate apparel. It can be used to create a durable design on hats, backpacks, shirts, jackets, and backpacks. Here's how the magic happens.

1. Convert your design for embroidery
Take the design you need and convert it into a file compatible with embroidery software. Embroidery machines cannot read common files like PDFs or JPEGs, and it takes some artistic input to translate the design correctly.
2. Choose your stitch type
Your designer will also need to choose your stitch type for the right texture and appearance. The most common types of stitching are straight, satin, and fill stitches. Each one has unique properties, looks, and functions that can make the perfect design.
3. Plug the design into an embroidery machine
Once you have the final embroidery design, all that's left to do is let the embroidery machine do its work. You can use the same embroidery design across hats, clothing, sweatshirts, and even backpacks.
Corporate apparel Tallahassee and shipping worldwide
Awards4U is based in Tallahassee, but we also offer shipping worldwide. Where ever your company is located, our dedicated team of designers can help you create corporate apparel that fits your brand perfectly. View our selection of fully customizable apparel to start boosting the visibility of your brand, reputation, and most importantly, look good doing it.