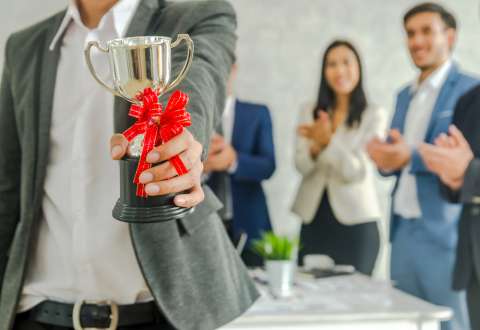 If you're looking to get the most out of your employees, nothing beats a well-timed pat on the back. Employee recognition is an important practice in any workplace, and business owners with well-established employee recognition programs typically see an increase in employee engagement, satisfaction and overall productivity.
Your employees want to feel appreciated and valued, not overlooked or unnoticed. Rewarding and praising employees for their hard work and efforts will not only lead to an improved work ethic among your employees, but also greater overall success for your business or company.
If anyone knows the best way to increase employee engagement, it's one of our favorite fictional bosses, Michael Scott of "The Office." In a popular episode of the series, Scott infamously presented his staff with the "Dundies," and although these awards ultimately failed to recognize his employees' actual job performance (e.g., Pam's "Whitest Sneakers Award" or Oscar's "Show Me the Money Award"), they intended to boost morale and highlight the small ways employees stand out.
Employee recognition doesn't always have to be conventional. If you're looking to try something new with your employees, consider recognizing their contributions with these creative awards.
Rookie of the Year Award
Pro tip: Don't forget your new employees. While it's important to recognize veteran team members, your new hires shouldn't be overlooked if they've already started making an impact. A Rookie of the Year Award could be presented to the recent hire who has already begun producing great work in a short time. There's a learning curve when it comes to starting a new position, and a new work environment can be intimidating, so be sure to let them know that their hard work is not going unnoticed.
Problem-Solver Award
Do you have an employee who seems to just have all the answers? One who is constantly thinking outside the box to find new and creative ways to make your business operations more efficient and effective? Recognize them with a Problem-Solver Award. An employee who is able to present innovative solutions that will help save you time and money is an invaluable asset to your team, and they deserve to be celebrated.
Spirit Award
A positive attitude can go a long way, especially in high-stress business environments. If there is a person in your business or organization who helps establish a positive and productive company culture with a willingness to be a team player, recognize them with a Spirit Award. In most organizations, there is an all-star employee who not only loves what they do, but also who they do it with and for – let them know that it shows with this special recognition.
Rising Star Award
A Rising Star Award is perfect if you have an overachiever in the office and want to recognize their hard work and dedication. The recipient of this award should be someone who goes above and beyond in all they do. Identify the star player on your team, thank them for the time they've invested in your company and let them know how grateful you are that they're willing to put in the extra work to ensure that the business succeeds.
Diamond Award
In every industry, business leaders and their employees will be faced with challenges. Though these challenges may leave some employees feeling stressed or overwhelmed, others begin to shine – like a diamond. If you have an employee who, like a diamond, flourishes under pressure, this is the perfect recognition.
Recognition makes people feel good about themselves, and when an employee receives an award to display, they're reminded of that positive feeling. Whether it's a small trophy, certificate of appreciation or another unique recognition item, employers should celebrate their employees' achievements with a keepsake that can be cherished forever.
At Awards4U, recognition is what we do. Check out our employee recognition award selection online, visit one of our local showrooms or give us a call for assistance today at (850) 878-7187.