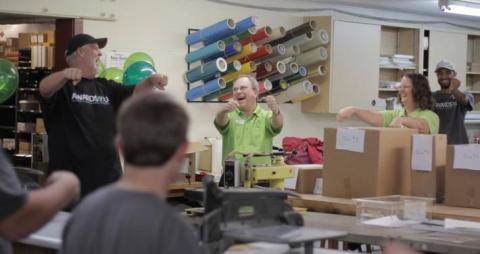 On April 15, we celebrated 31 years of business in the art of recognition. We seek to uphold the essence of what it means to value recognition and nothing gives us greater joy than allowing our customers to share in that experience. In honor of more than three decades of business, here are four fun facts about Awards4U and our founder, Sam Varn, that you may not know.
Sam's first business was a parts shop. When he was a teenager, he opened Pit Stop, a shop where riders could buy any parts they required. He then went on to build a racetrack from scratch.
In Awards4U's first years of business, it had two employees and brought in $100,000 in sales a year. Now, we employee nearly 40 people and have nearly 200 years of combined experience.
Awards4U is more than awards and promotional products. Our sister company, National Awards4U, is a premier retailer in Rotary club supplies and gifts. Sam and members of his family are involved in Tallahassee's local Rotary club.
Awards4U assembles all of our products here in the U.S. Our beautiful showroom and warehouse has a total square footage of 15,000.
We are excited to celebrate 31 wonderful years of business. We couldn't have reached this milestone without a stellar team and support from our loyal customers and community. Here's to many more!