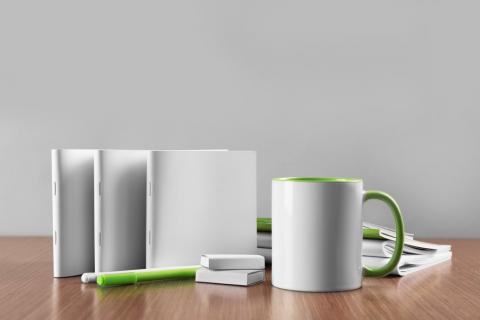 From pens to coffee mugs, promotional items have long been used as a tool for business owners and managers to raise awareness about their products and services. Incorporating promotional products into a marketing plan or campaign is a proven strategy for businesses, but only when they're meaningful.
As the options for promotional items become even more plentiful, it's important to determine the most effective items to market your business before making your purchase. Here are some tips to consider before you buy.
Connect it to Your Business
While it may not always be easy, it is best to find promotional items that complement the services and products your business offers. For example, a tech company may want to use branded flash drives or a mouse pad to promote their business, while a dentist office may opt for travel-sized toothbrushes or branded floss dispensers.
Keep Your Audience in Mind
When ordering promotional products, the more you understand about your customers the better. Knowing who is in your target audience and the lifestyles they lead can be helpful in determining the type of products that will make a lasting impression.
Keep key factors such as gender, age, occupation and family status in mind when determining the return on investment of certain promotional products. Though it may be tempting to purchase trendy items such as pop sockets and reusable straws, they may not resonate with your audience.
Although every audience is different, here are some key insights from the Advertising Specialty Institute that may help you get started with your consumer research:
Promotional pens offer the best balance of cost and marketing impressions
Women between ages 18 and 24 are more likely to use bags with a logo
Rural and older adults are more likely to use promotional calendars
Younger adults between 18 and 34 use more promotional desk supplies
Suburban and rural consumers are more likely to use logoed drinkware
Men are more likely to use promotional USB drives and outerwear
Make it Useful
If your goal is brand awareness, providing your audience with items they can use publically is vital. Branding items that are useful in people's day-to-day lives, such as grocery bags or umbrellas, will help ensure they're not thrown away or kept in a drawer never to be seen again.
Think About Longevity
Though some branded items may be ordered for a specific event, most should be purchased with longevity in mind. To extend the shelf life of your promotional products, avoid using anniversary logos or special offers that will date the items.
It's also important to consider the type of product your ordering when planning for long-term use. While items such as pens and sticky notes are a popular choice among businesses, they have a much shorter lifespan than a bag or t-shirt.
If you're interested in purchasing the right promotional items for your organization or business, contact Awards4U today at 850-878-7187 or check out our extensive selection online.