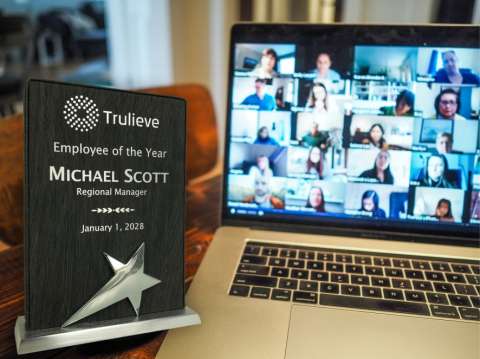 The pandemic has disrupted many things in our work environments, but employee recognition does not have to be one of them. A digital award ceremony is the perfect way to celebrate your team's hard work and show them you appreciate their efforts.
Here's how you can make the most out of your virtual ceremony and show the recognition your team deserves.
Give Everyone Enough Notice



It's easy to miss an email, especially if you are working remotely. Some of us have children at home, the news playing in the background, or a playful pet. That is why it's essential to give your team enough notice before you host a digital award ceremony.
Remind everyone during your meetings, send out an email or two, and send reminders any way you can. Doing this makes it easier for people to set aside the time for the ceremony and it guarantees you will have an audience.
Choose a Video Conferencing Platform



By now, you have probably already had some experience with video conferencing. You might have come across a lot of different platforms and noticed not everyone uses the same software. It is best to go with something that most people know how to use.
Here are a few common video conferencing platforms:
● Zoom
● Skype

These video conferencing platforms are ideal for small to medium-sized digital gatherings and are easy to use. Choose something with a support team on hand and make sure you become familiar with how to use the software ahead of time.
Choose Awards for Your Ceremony



No award ceremony is complete without a prize. Make sure to get the awards in your winners' hands before the ceremony. They should not have to wait until after the ceremony to receive their awards, so place your order with enough time to allow the awards to be shipped.
Using a personalized award is a great way to make it more memorable. By including your winner's name and company's logo, you are sending a message that your recipient is a valued member of your team.
The best reward is something that serves as a constant reminder of their achievement. Desk accessories are perfect for both the home and company office. Your award recipient will have a visual reminder whenever they are hard at work.
You can also give your winner a custom gift, such as a tumbler, power bank, or anything else your employee might use. It shows that you put thought into your award and the award recipient will be grateful to have something they use often.
Ship or deliver your awards to each individual prior to the event and instruct the recipient to wait until the event to open it. Add a colorful "Do Not Open Until Instructed" sticker on the outside of the box. This can add to the excitement and give them something to look forward to throughout the presentation.
Make it Engaging



Although virtual ceremonies are not ideal, there are still ways you can make the experience fun for your team. Here are some ways you can keep everyone engaged.
• Break everyone into small groups. If you know your expected turnout will be large, then small groups can be a great way to keep the experience personal.
• Involve your audience. Not getting your audience involved during a live-streamed event is a wasted opportunity. Leave time for questions, comments, or interviews with winners.
• Plan a game or contest. There are many options available, and it'll be a great way to make the event more engaging for your audience.
Create Lasting Memories
Choose from our vast selection of awards, gifts, and personalized items to give your recipient something they will always remember. Find an award that shows them that they are appreciated, memorialize their great achievements, or just give them a laugh. A quality award ceremony touches the heart and creates immense pride. This is recognition that lasts a lifetime.