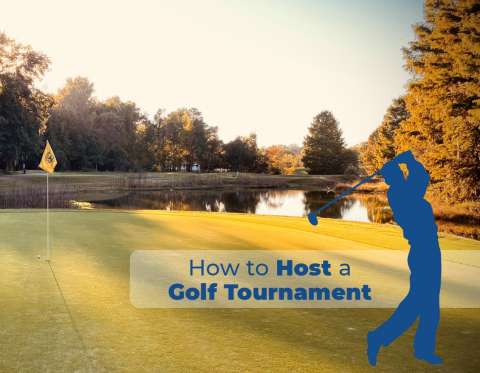 Whether you're looking for fundraising, competition, or entertainment, knowing how to host a golf tournament has a lot of benefits. It's estimated that charity golf tournaments raise about $4 billion a year.
So what makes golf tournaments so successful, and how can you host one? Here's what you should know.
Give memorable awards for golf
Awards for golf are usually reserved for the top teams, but you don't want anyone to leave empty-handed. Here are some awards for golf that you can give to anyone:

Gifts and awards for golf can also be a great marketing tool, helping you secure an audience for your next event and generating excitement for everyone who participates. These memorialize the event with a tangible gift for more people.
Set a goal for your tournament
Every golf tournament needs a goal. You can have a monetary goal if you are fundraising or a marketing goal if the tournament is for networking. A successful goal gets people excited to participate.
Your goal must align with the audience of your tournament and your values as an organization. What is your cause? Where can your contributions provide the most benefit?
Golf course selection is crucial to golfers. You'll want to ensure that the course is suitable to the skill level of your audience and that it is capable of hosting your event. Consider these questions on your search:
● What is the experience level of your golfers?
● What date and time will secure the highest attendance?
● How long can you reserve the course?
Much of this information is available on a course's website, but you should also rely on the experienced members in your organization. If you start your search early, you can find the best price for a course by negotiating the best times to make a reservation.
Choose a golf tournament format
Your format for the golf tournament is another crucial ingredient to making it a success. Choose a format that aligns with the skill of your audience and the goal of your tournament. Your format sets the game's tone and can make it feel like a serious competition or friendly outing.
Formats like Best Ball Gross, or just Best Ball, are best for competitive players familiar with the sport. Formats like Scramble and Shamble are two common tournament styles better suited for novices and casual players.
Select golf trophies for the top teams
No tournament is complete without a golf trophy. In fact, the quality of a tournament is usually remembered from the quality of the trophy. Awards4u has the best selection of golf trophies for competitive, charitable, and informal events.
An extravagant golf trophy can add to the sense of competition in a tournament and enhance the feeling of accomplishment for the winners.