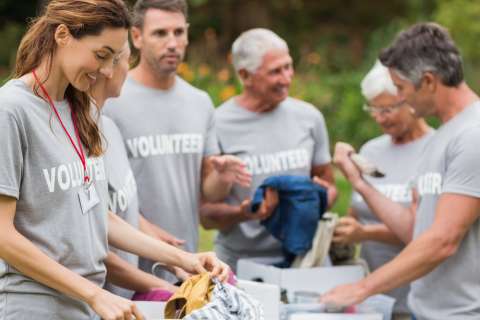 We often talk about the benefits of employee recognition in business, but it is equally important in volunteer organizations. It is essential that nonprofits have a robust and structured volunteer recognition program that keeps people interested.
According to the Corporation for National and Community Service, nearly 77.4 million Americans volunteered 6.9 billion hours last year, and based on the Independent Sector's estimate of the average value of a volunteer hour, the estimated value of this volunteer service is nearly $167 billion.
People volunteer because they are committed to the mission, and this is often self-rewarding. But volunteers are human, too, and recognizing them unexpectedly can go a long way in ensuring long-term engagement. A healthy organization should notice the positive things volunteers are doing all the time, not just when big fundraisers or galas are happening.
Volunteers can be motivated in a variety of ways. They are already committed to the mission, or they wouldn't be there, and this lets them see what can be achieved with their contributions. Whether it be hand-written thank you notes, leftover auction items or kudos at board meetings, implement a program to recognize your volunteers and watch participation grow.
Why is recognition important to volunteer programs?
Though volunteers typically donate their time for selfless reasons, they still need to feel appreciated for what they do. Remember, positive reinforcement goes a long way in keeping volunteers engaged and involved. Taking the time to recognize your volunteers helps organizations retain high-performing volunteers and recruit new ones.
Poor management can result in a volunteer's dissatisfaction, and as a result, more than one-third of those who volunteer one year do not volunteer their time the next year at any nonprofit. According to research published by the Stanford Graduate School of Business, this adds up to an estimated $38 billion in lost labor.
Developing a robust volunteer recognition program and taking a strategic approach to volunteer management is essential for organizations working to retain talent.
How can organizations recognize their volunteers?
Volunteer recognition can take on many forms, both formal and informal. Whether you're hosting a traditional volunteer banquet or taking a more creative approach, be sure to step back and celebrate volunteer accomplishments throughout the service project.
Share Volunteers' Accomplishments: Routinely feature extraordinary volunteers on social media, on your website or in your email newsletters to celebrate the work they've completed and the impact it will have on the community.
Give Small Tokens of Gratitude to Your Volunteers: Distribute small thank-you gifts throughout the project to demonstrate your gratitude to volunteers. Items such as donated movie tickets, restaurant or coffee gift cards, or event handmade thank-you notes can mean a lot when they're unexpected.
Give Awards to Your Volunteers: If you are hosting a volunteer luncheon or banquet, celebrate your outstanding volunteers with special awards to commemorate their dedication and service to your organization.
Volunteers are the lifeblood of many organizations. Without their tireless and unpaid efforts, many associations and nonprofits would not succeed. Let the knowledgeable team at Awards4U help you choose the perfect award to show your deep appreciation for your volunteers. Stop by one of our conveniently located showrooms or give us a call today at 850-878-7187.