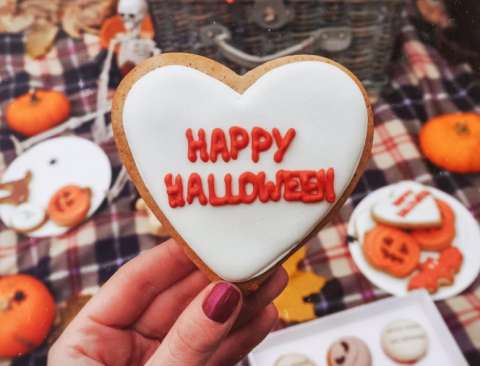 Halloween is the only holiday where we can all dress up, come up with imaginative costumes, and showcase the best of our creativity. But what good is a costume if you can't show it off to the people you spend the most time with? Here's how you can throw the best office costume party and make sure everyone has a good time.
Planning your office costume party
In a single day, we might see hundreds of emails and notifications. So, it's understandable that your costume party announcement might get swept under the rug. To make sure this doesn't happen, start planning your office party well in advance, so everyone has time to plan their costumes and participate in the activities.
To make things a little more organized, you can gather some people on your team to form a party planning committee. Give them a budget and some guidelines, but mostly let them run with their ideas and make sure the planning process is inclusive and engaging for everyone involved.
You can ask your committee to place treats around the office, organize festive games and activities, put together a Halloween-themed playlist, set up decorations, and carry out any ideas that your team comes up with.
Have a costume contest
Costume contests are the ultimate way to get people excited about choosing or designing their costumes. Throw in some Halloween trophies and prizes, and you'll be surprised at the creativity people can bring to the office.
Set guidelines
It is best not to be strict with your costume guidelines, but make sure there isn't any confusion about what is considered appropriate and inappropriate for the office environment. If your party is scheduled during your standard work hours, you should also set guidelines for anything considered dangerous in your work environment.
Include everyone in the vote
There are a lot of ways you can judge a costume contest. You can try passing out ballots that list each category and an area to fill in the person's name with the best costume. You can also go by the energy in the room, loosely judging the best costume and focusing more on the excitement of participating in the contest.
Costume award categories
There are all kinds of costumes and possible ways for people to make them, so it wouldn't be fair to have one category. Here are some examples of the best costume awards to make your contest more exciting.
● The Dad Joke Award
● The Perfectionist Award
● Most Creative Costume Award
● Funniest Costume Award
Whatever category you choose, make sure it's something everyone can have fun with. Make it too specific, and the process won't be as engaging. Keep your categories a little vague and let the best costumes shine through.
Find the best costume awards
No costume contest is complete without an award. Find the best costume contest awards at Awards4U. All of our trophies are customizable, come with a 100% happiness guarantee, and are assembled in the USA.