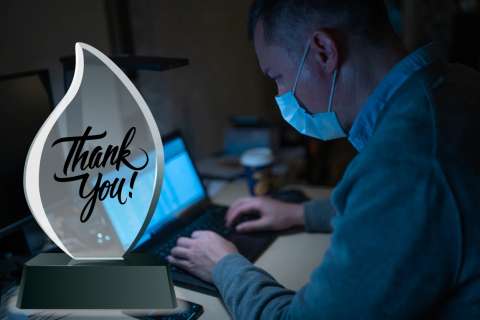 In these times of uncertainty, Awards4U is sure of one thing: People need recognition now more than ever.
- Recognition for being a first responder.
- Recognition for homeschooling children.
- Recognition for running an essential business that others depend on.
- Recognition for just making it through one day at a time.
The past few months have been difficult, but we have seen communities come together as one to be stronger than ever. And although some in person events have been cancelled or shifted to a virtual event, there are still chances to show appreciation during these times.
Some conferences and events that were to be held in Summer 2020 have shifted to virtual meeting platforms. If you're still thinking of ways to take your in person meetings online, here are some tips.
If you or your group is making an announcement, try using Facebook Live as your platform. You can save the video after you go live, and post it to your group's page. Going Live on Facebook is free, and allows viewers to comment questions during and after the recording so you can answer in the moment, or after the fact. To host a Facebook Live, send out the link to your Facebook page to the people you would like to tune in with the date and time you'll be going on camera.

For meetings of 2-10 people, using Google Meet or Zoom would be a great alternative. These platforms can easily handle smaller groups and have a gallery view of the attendees so you can see everyone at one time. You'll have the ability to share your screen, so you can show a presentation while still engaging with your group.
For larger meetings, like moving a conference online, try exploring the benefits that Webex and GoToWebinar offer. Webex Events can host up to 3,000 participants. With that many people, you want a reliable system that can manage that many video and audio calls without losing any quality. There's nothing worse than buffering in front of 3,000 people!
Send a calendar invite in advance with plenty of information regarding the topic of the call, length, and anything the attendees should come prepared with. Build an agenda, but be flexible so the conversations flow just as they would in person.If this is a larger meeting, assign a note-taker, a facilitator to keep the conversion moving, and a moderator to keep an eye on the schedule.
Design your presentation with an emphasis on visuals such as charts, images, or videos to keep the audience engaged. Try limiting each section of your presentation or event to under 20 minutes, and allow a scheduled time for participants to break about halfway through if the event is longer than an hour.
Always be conscious of what is in your background when on camera, and try to situate a light source behind your camera to illuminate your face. While working from home may prove to be challenging to find a quiet workplace away from kids, spouses, or pets, there are little things you can adjust in any space you find.
There are many ways to still highlight individuals and their hard work, even during an online meeting. If this is the case for your company or association, Awards4U gladly ships individual awards to the recipients so they can be acknowledged during the online event.
While communities across the world adjust to this new normal, Awards4U is here and ready to keep you and your loved ones, teammates, and members feeling positive and appreciated.