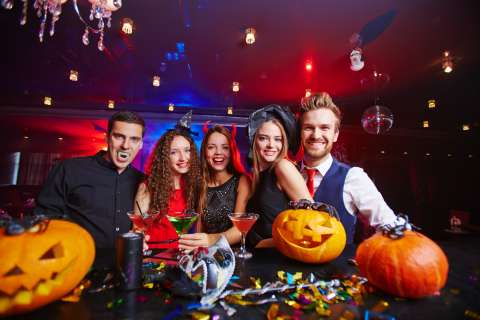 Halloween may be on a Saturday this year, but who says workplaces can't celebrate a day early? Incorporating Halloween festivities into your corporate culture is a great way to liven up the office — and it doesn't have to be expensive or time consuming.
This could be something as simple as allowing employees to wear costumes to work. What other time of the year can you see R2D2 and Wonder Woman chatting at the water cooler? And if you want to make it a bigger production, you can have a staff-wide Halloween party.
Either way, Halloween can provide employers an opportunity to recognize their employees in fun, creative ways. One of the easiest ways to do this is through a costume contest. Just print out some festive certificates, designate a few judges, have the team dress up and you've got yourself a contest!
From creepy to creative, here are a few fun costume contest awards for your employees:
Scariest Costume:
And the award goes to… those employees who've either seen every Scream sequel or those who applied the fake blood a little too convincingly.
Most Creative Costume:
And the award goes to… those avid crafters or DIYers in the office who enjoy tackling workplace challenges through creativity and finding alternative solutions.
Best Group Costume:
And the award goes to... those collaborative co-workers, who make work (and costume contests) a true team effort!
Best Pet Costume:
And, of course, this award goes to… your office mascot (if you're lucky enough to have one!)
However your office is planning to celebrate Halloween, know that it can be a great way for employers to recognize their employees in fun and festive ways.