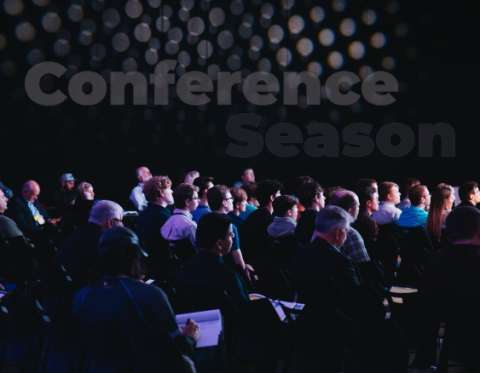 With Summer officially right around the corner it's the kickoff to conference season. Professionals from many different industries all around the country will be attending conferences and trade show events for industry education and networking with a little fun mixed in for good measure.

Conferences can be a great way to learn about new trends in your industry and hear from some of the top leaders in your field. However, conferences can also be overwhelming, especially if you're not sure how to make the most of your time. Here are a few tips for ensuring that you have a great conference experience.


Prepare for Education
It's always a good idea to review the educational offerings before attending an event. This way, you can make sure you're getting the most value out of your experience. Some seminars will fill up quickly, so it's important to register in advance for the ones you don't want to miss. Attending educational sessions is a great way to stay educated on your industry and gain valuable knowledge that will benefit you in the future. By taking the time to review the offerings and plan ahead, you can make the most of what's available to you.


Focus on Networking
Conference season is a great time to focus on networking. There are usually tons of professionals in attendance and it's the perfect opportunity to make new connections. Whether you're looking for potential collaborators or just want to chat with like-minded people, conference networking can be a great way to meet new people and expand your professional network. Networking can be intimidating, so it's important to go into it with a plan. Do some research ahead of time and make a list of the people you want to talk to. And don't forget to follow up after the conference! A simple email or LinkedIn message can help you stay in touch with new contacts and establish long-term relationships.
Take Advantage of Displays and Exhibits
Many conferences host a trade show floor or exhibit hall. Plan to spend a good bit of time wandering the floor, getting a general sense of new developments, and tracking down specific conference samples or takeaways. It's always a good idea to introduce yourself as a conference attendee and ask vendors about their latest offerings or upcoming products. You never know when you might make a valuable connection or learn about an exciting new development in your field. Next time you're at a conference, be sure to take advantage of the exhibits and displays - you might just be surprised at what you find.
Practice Good Note Taking and Review What You Have Learned

One of the most important things you can do during, or immediately after attending a conference is to go through your notes and reflect on what you have learned. It's helpful to do this while the material is still fresh on your mind, but it's also important to remember that learning is a process that happens over time. Therefore, make sure to spend some time in the weeks and months following the conference to revisit your notes. This will allow you to retain what you have learned, connect new ideas with what you already know, and continue to grow as a professional.
Make Time for Some Fun
It's important to balance out your conference experience by reserving some time to relax and have fun. You can do this by grabbing some drinks with new friends, or attending a conference cocktail hour. This will help you to feel more refreshed and energized for the rest of the event. Additionally, it's a great way to network and build relationships with other professionals in your field. So don't be afraid to let loose (but not too loose) and have some conference fun!


Finally, take advantage of all the resources that are available to you. Most conferences offer a wealth of information and resources, so be sure to take advantage of everything that is offered. From educational seminars to networking opportunities, there is something for everyone at a conference. By following these tips, you can ensure that you have a productive event!

If you're planning a conference in the near future, make sure to check out our "4 Must Have Promo Products".