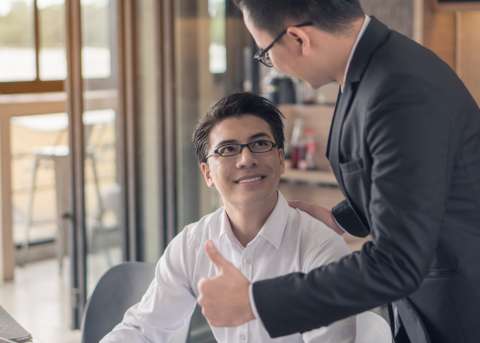 As business owners and managers, it can be easy to get so caught up with your day-to-day responsibilities that you forget to make time to celebrate the people who help make your business successful — your employees.
According to a 2018 global employee engagement survey conducted in 1,000 companies employing eight million people globally, the "strongest drivers of employee engagement" are rewards and recognition, and recognition for contributions (apart from pay and benefits) is a key factor in employee satisfaction.
By implementing an employee recognition program in the workplace, employers gain several long-term benefits, including greater employee satisfaction, increased individual productivity and retention of quality employees.
Employee Recognition Boosts Morale
Anyone who has worked the same job for an extended period of time knows that not every day is exhilarating, and certain tasks can start to feel mundane and repetitive. As an employer, it's vital to create enthusiasm about the work that is being done. Simply taking a few minutes throughout the day to let your employees know that their hard work is being noticed can be an incredible morale booster.
When you show your employees that you appreciate their efforts and express how impactful their contributions are to your organization, you make them feel good about what they do. This, in turn, creates a happy work environment and helps establishes a positive company culture.
Employee Recognition Increases Employee Loyalty
Voluntary employee turnover is a growing problem that affects employers in a variety of industries. According to the Work Institute's 2018 Retention Report, one in three employees will leave their jobs each year by 2020 to go work somewhere else. The good news for employers is that most turnover is preventable, and companies that make intentional efforts to retain their talent can do so.
Just like any relationship, from time to time people need to feel validated to stick around. Employers should take the opportunity to formally recognize employees for their dedication and long-term commitment by celebrating notable career milestones and anniversaries.
Business leaders should also routinely showcase the outstanding work employees produce to provide them with the reassurance they need to feel valued and appreciated.
Employee Recognition Inspires Hard-Work
Recognition can help combat complacency by inspiring the need for continued growth in the workplace. Showing your appreciation for the discipline and creativity staff members bring to everyday projects will help keep them engaged and their excitement sparked.
Not only do recognition programs demonstrate your gratitude for outstanding employees, but they also reinforce the importance of going above and beyond to underperforming employees.
At Awards4U, we know how valuable your employees are, and we want to help you recognize them. Check out our employee recognition products online or call 850-659-0860 to learn about all of the recognition items Awards4U has to offer.