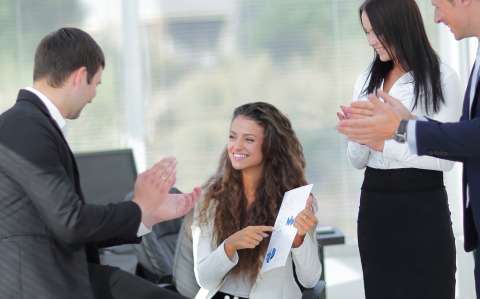 Because we stay so focused on meeting deadlines, running in and out of meetings and trying to stay caught up on the dozens of emails we get in a day, saying that our days at work are busy is a bit of an understatement. So, recognizing your employees shouldn't be something you put on the back burner. In fact, employee recognition is beneficial for any workplace as it often leads to higher employee retention, higher productivity and overall better employee morale.
Employees are motivated to perform their best when they feel that their work is noticed and appreciated. Milestone awards are a great way of recognizing your employees, letting them know that they are valued and their hard work contributes invaluable ways. These awards can be given for minor accomplishments, such as employee of the month or can be awarded to honor or recognize an employee who has been with your company for several years.
It's important that employers understand that these types of accomplishments should not be swept under the rug. Instead, they should be recognized and held in the same regard that their employees hold them in. Above all, not only will these awards boost productivity for your company, but they will help keep morale high and give your employees that sense of accomplishment that their work matters.
Every accomplishment is different, so the way you choose to celebrate an employee reaching a milestone may vary depending on the situation and employee. While some minor accomplishments may warrant a gift card for lunch or a small bonus, others may call for a plaque or a trophy. If you've decided a more formal recognition is the best approach, be sure to have the employee's name and the milestone that is being celebrated inscribed on the award. When handing out these awards, remember that celebrating workplace milestones shows your employees that their work matters, they serve a purpose to your company, and most of all, that they are a valuable asset to your team.
At Awards4U, we have the perfect products to help you give your employees the best milestone award. Check out our employee recognition award selection online, visit one of our local showrooms or give us a call for assistance today at (850) 878-7187.