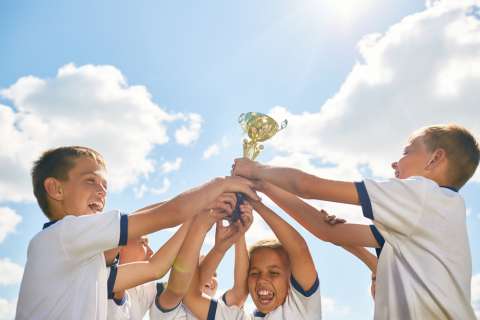 While there is often debate about the purpose of participation awards in today's youth sports leagues, one point that critics and advocates can agree on is the need to recognize players for their achievements.
While awarding players for excellence on the field or the court is important, there are many ways to celebrate an athlete's personal growth and contribution to the team without minimizing the accomplishments of those who are excelling in other areas.
When organizing an end-of-season awards ceremony, there are a number of award categories that you can choose from to recognize your athletes. Consider one of these four ways to celebrate your players' success at the end of the season.
Personal Best Awards
One way to celebrate the achievements of athletes who are still developing their skills is by recognizing them for reaching a personal best during the season. Personal best awards celebrate the individual growth of athletes who are playing team sports while encouraging them to set personal goals.
Awards for Improvement
At the end of each season, each player has shown growth in some way. Rather than solely awarding players for excellence, consider giving out awards for improvement instead. You can highlight the individual area in which the athlete has shown development with awards such as "Most Improved Batter" or "Most Improved Catcher" as well as overall improvement awards such "Most Improved Player."
Attitude and Effort Awards
Many parents register their children in youth sports to help them develop social skills and sportsmanship. Recognizing team members for attitude and effort is a great way to encourage players' continued growth in those areas. Awards such as the "Team Spirit Award" or a "Love of the Game Award," can be great motivators for kids to have positive attitudes while playing sports.
Superlative Awards
Superlative awards don't have to only be for the most valuable overall players on a team. Throughout a season, even developing players have shining moments, and they should be celebrated. If you'd like your end-of-season awards ceremony to highlight the athletic accomplishments of team members, recognize them for being the best or doing the most in certain areas. For example, some players may receive awards for having the best throw, kick or catch while others are recognized for being the most dependable, toughest defender or most versatile.
If you're interested in buying end-of-season awards and medals for your youth sports team, check out our selections online, visit one of our local showrooms or give us a call today at 850-878-7187.