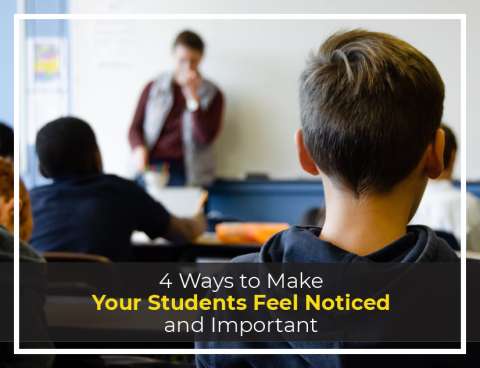 How do you make your students feel noticed and important? It's a question on the mind of teachers and parents everywhere as we enter the new school year. Here's why student recognition matters and four ways you can make any student feel noticed and important.
Student recognition has benefits
Research shows that recognizing students for their achievements can motivate them to put more effort in school and improve their academic performance — but the benefits of student recognition don't end there.
● Create a community
● Boost satisfaction from achievements
● Make students feel important
● Foster a positive learning environment
● Increase confidence
When students feel recognized and enjoy a positive classroom environment, it can profoundly impact how they view learning later in life. Try any of the four methods below to help your students get the benefits of recognition.
1. Working together with students
Student recognition is highest when they feel involved in the process. Engaging students with one-on-one conversations or conducting surveys in schools and individual classrooms are great ways to make everyone feel involved.
Some classrooms have students vote on unique award titles they can earn throughout the year. Doing this allows students to come up with fun and exciting award titles that are unique to them and their class.
2. Creating a community
Do your students feel like they are part of a community? Students who feel like they are part of the school community are more likely to feel valued and important.
Let students represent their school with custom clothing that has your colors and logos. School water bottles, backpacks, and pens can also be used as student award incentives. This gives students more freedom in how they want to express their sense of community at school.
3. Highlighting your student's strengths
Using personalized student awards is a fun way to show you pay attention to their unique strengths. Students feel recognized when you highlight something they do well instead of using non-personalized award titles that can be given to anyone.
Award your student for being a Super Reader, Best Helper, Most Curious, or any title that is unique to them. You can also use award titles that recognize specific achievements like completing homework, scoring high on an exam, or going above and beyond on an assignment.
4. Celebrating achievements together
Award ceremonies are an exciting way for students to celebrate achievements together. You make student award ceremonies part of a school tradition or host them for special occasions.
Peer recognition from award ceremonies can boost feelings of achievement from student trophies and awards. Coming together as a student community to celebrate each other makes these moments more meaningful for award recipients.
Personalizing student awards is easy
Personalizing student awards and school apparel is easy with Awards4U. Visit us online to personalize an achievement by adding your school's logo and the student's name to the award. All of our awards are assembled in the USA and are backed by our 100% satisfaction guarantee.